The Buoy Tool is a tool designed to facilitate the crab fishing activities.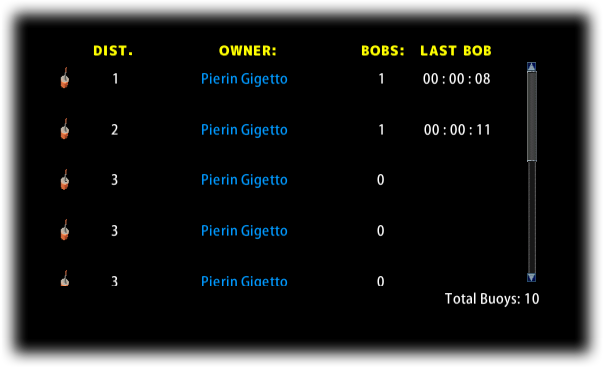 Like most of the windows, you can move scale and apply a transparency to this one.
By default when open, it shows only the buoy that "bobs". To see all the buoy around you, just use the Object Handle and it will update the list.
When a buoy sink or get picked up, it will be automatically removed from the list.
The buoy list is sorted by distance from you so that you can always see the nearest on the top of the list.
The table shows the following data:
DIST: the distance between you and the buoy.
OWNER: the buoy owner (blu if it's you, red if the buoy belong to someone else).
BOBS: the number of time it has been triggered.
LAST BOB: the time passed since the last time it was triggered.
Total Buoys: the total amount of buoys around you.

If you double click a buoy on the list it will be like double click the buoy itself and you will pick it up.
A single click on a buoy on the list, it will take the Current Target of it and it will also shows the mobile arrow over the buoy (so that you can find it more quickly).